A Pathway to Somewhere
Frog Hollow artist Josh Axelrod Exhibit to run the month of September!
Over the past 10 years, Josh Axelrod has pursued a concept of work exploring depth, focus and interpretation, by way of the "path". "A Pathway to Somewhere" is a body of traditionally photographed images from all over the world, from Patagonia, Chile to Cuba to right here in Vermont.
Upon these pathways, whether they are made from footprints in the sand, pavement or wooden planks crossing a bridge, Josh is "seeking something further; perhaps a sense of contemplation, a peaceful sense of place, or forgotten memories?  I enjoy seeing where the viewer is led."
Printed in editions of 50, these black and white film photographs are printed by Josh using a carbon pigment printing process and assembled using museum grade mats and hand-crafted frames.  He builds the frames using antique architectural woods, providing a continuation of aesthetic mood from image to frame.
The opening will take place the first Friday of the month, September 1st, from 5-8PM and runs the month of September in the newly developed backspace gallery in Frog Hollow, 85 Church Street, Burlington VT.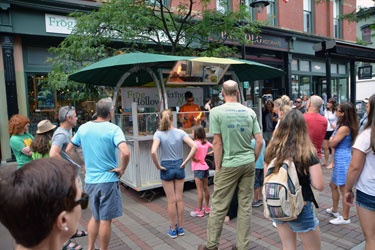 Look for the cART on Church Street!
The Frog Hollow Artist Demonstration cART is on Church Street Through September 
Friday evenings (3-7PM) and Saturday afternoons (11-3) the cART will host a variety of artists (pictured above is Eric Nelson of Eye and I Glass) as they demonstrate the techniques and process the utilize in the creation of their work. Stop by and see what they are making in this unique demonstration vehicle created by Frog Hollow artist Aaron Stein and metal artist Aaron Grossman.

Vanishing Vermonters is HERE! 
Vermont Photographer Peter Miller Launches New Book at Frog Hollow.
 
Frog Hollow announces a 10 day gallery exhibit featuring many of Peter's new images from his daring new book Vanishing Vermonters, Loss of a Rural Culture. Known for his iconic black and white photographs of native Vermonters and country scenes the exhibit will feature a new approach by the artist, to Peter's beloved Vermont subject matter. Available to view beginning August 18th The exhibit will run through August 28th with a book launch/meet the artist event on August 25th from 5-8PM where  copies of the soft cover book will be on hand for the first time. 
 
Peter Miller photographer, writer and publisher of Colbyville, completed a fund-raising campaign with Kickstarter.com and raised $26,180.  The money is to be used to print his new book, Vanishing Vermonters…Loss of a Rural Culture.
Mr. Miller began this project in the fall of 2016. "Many people, after I published A Lifetime of Vermont People," said Miller, "visited and emailed me about the problems they had with the high cost of taxes and living in Vermont. I had not planned on doing another Vermont book but I had no choice. It was my responsibility.. It came at a rough time, for I only had $500 in my bank account and a hefty mortgage. I was 82 and not many will lend to an old, broke person. Without the return from Kickstarter, I would not have been able to publish this book."  
Only a limited number of the pre-press soft cover version of the book are currently available to gallery visitors.  A hard Bound version of the book will be printed and made available to the public in the near future. 
Book Launch
Friday, August 25th 5-8PM
85 Church Street, Burlington VT
(802) 863-6458
Did you miss our June Exhibit "Here to There"? Click Below to view a digital catalogue...
The Frog Hollow Green Mountain Artisans on VT PBS!
Click the logo below to visit our VT PBS page to stream full episodes and view the current schedule. And look for new episodes coming in October 2017!
The Frog Hollow Green Mountain Artisans is an ambitious video project, undertaken to increase the exposure of established artists and artisans within the state of Vermont. The series brings recognition to our creative community and its cultural value while examining how we fit into our nation's landscape of creative exploration. Following 2016's successful and well received pilot episode of The Frog Hollow Green Mountain Artisans, Vermont PBS has requested several new episodes to air weekly in 2017. We have used these films as a great tool in educating the public and as an effective avenue for our artisan population to get their work seen by a larger audience.
To become a  Frog Hollow supporting MEMBER Click Here
Frog Hollow Vermont State Craft Center
85 Church Street
Burlington, VT 05401
phone (802) 863-6458 
Gallery Hours:  
Winter hours: Jan 10 – April 15
We will be closed all day Wednesday, Jan 18th for inventory
Monday - Saturday 10:00 a.m. - 6:00 p.m.
Sunday 12:00 p.m. - 5:00 p.m.
Summer and Fall hours: April 16 – Nov 27
Monday - Tuesday 10:00 a.m. - 6:00 p.m.
Wednesday - Saturday 10:00 a.m. - 8:00 p.m.
Sunday 11:00 a.m. - 7:00 p.m.
Holiday hours: Nov 28 – Jan 9
Monday - Saturday 10:00 a.m. - 8:00 p.m.
Sunday 11:00 a.m. - 7:00 p.m.
If you can't visit us in person, check out our online gallery! You are also welcome to call us anytime so we can help you find what you are looking for or email us at  info
froghollow.org