June Exhibit: Here to There
 
A Farewell Exhibit Celebrating the Work of John Brickels and Wendy James as they Prepare to Move Out of Vermont
In June of 2017, Wendy James will be retiring from her position as an Art Teacher at Essex High School and with her retirement ends an era at Frog Hollow. An era begun by Wendy's husband, clay sculptor John Brickels, when over thirty years ago he juried into Frog Hollow with his quirky and much beloved barn and building sculptures. For decades John has been a draw to our gallery. In 2011 following a group exhibit entitled Partners (an exhibit where we asked local artist couples to collaborate on a single piece incorporating both of their media and signature "look") Wendy also juried into Frog Hollow with her digital photomontage work. For years the two have been a constant presence within our gallery walls. Always present at openings, annual meetings and events they are a model for community support and involvement in the arts. With Wendy's retirement, the two plan to move out of state, closer to their grandchildren. Since Frog Hollow does not allow the exhibition of non-Vermont residents, we will be hosting the farewell exhibit of these talented artists. Please join us as we celebrate our time together with Wendy and John and our deep appreciation for their support and commitment to Frog Hollow.
Here to There, John Brickels and Wendy James Artist Statement:
Everything changes. And this change takes three decades of John and Wendy's "Here" in Vermont to a new "There" in Lowell, Massachusetts. John's art has played many themes, from rural and urban architecture to pedal car sculptures to Steampunk gizmos and robots to Mid Century Modern interiors and facades. Wendy has moved within several media including digital photomontage, ceramic pottery and sculpture, and oil painting. Although this change from Here to There is filled with exciting promises of new adventures, deep ties to friends and Vermont's rich artistic community will always be a strong draw back to Here.
Stay in touch.
John and Wendy
To view a catalogue of items included in the exhibit please click the below link:
Opening Reception
Thursday, June 1st from 5-8PM
May Exhibit: Nine by Nine
 
Nine Women, Nine Tiles, One Cause
"Nine by Nine" features ceramic tiles created by Dianne Shullenberger, Ellen Spring, Wendy James, Irene Lederer LaCroix, Daryl Storrs, Heidi Broner, Carol MacDonald, Ulrike Tessmer and Sally Duval.
Each tile will be auctioned to benefit: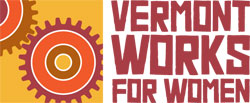 a non-profit that helps women recognize their potential to excel in work that leads to economic independence.
Click below to view the online catalogue 
 
https://issuu.com/frog_hollow/docs/ninebynine
Auction Closing Reception
Wednesday, May 31st 6PM
85 Church Street, Burlington VT
(802) 863-6458
Did you miss our March 2017 Warren Kimble Exhibit? See below to experience it digitally.""
Take a 360 virtual tour of the exhibit with Warren Kimble below (this video plays best on Chrome browsers. You can also visit YouTube directly by clicking on the "YouTube" logo in the lower right of the video inset to see it as a 360 experience)...
The Frog Hollow Green Mountain Artisans on VT PBS!
Click the logo below to visit our VT PBS page to stream full episodes and view the current schedule.
The Frog Hollow Green Mountain Artisans is an ambitious video project, undertaken to increase the exposure of established artists and artisans within the state of Vermont. The series brings recognition to our creative community and its cultural value while examining how we fit into our nation's landscape of creative exploration. Following 2016's successful and well received pilot episode of The Frog Hollow Green Mountain Artisans, Vermont PBS has requested several new episodes to air weekly in 2017. We have used these films as a great tool in educating the public and as an effective avenue for our artisan population to get their work seen by a larger audience.
To become a  Frog Hollow supporting MEMBER Click Here
Frog Hollow Vermont State Craft Center
85 Church Street
Burlington, VT 05401
phone (802) 863-6458 
Gallery Hours:  
Winter hours: Jan 10 – April 15
We will be closed all day Wednesday, Jan 18th for inventory
Monday - Saturday 10:00 a.m. - 6:00 p.m.
Sunday 12:00 p.m. - 5:00 p.m.
Summer and Fall hours: April 16 – Nov 27
Monday - Wednesday 10:00 a.m. - 6:00 p.m.
Thursday - Saturday 10:00 a.m. - 8:00 p.m.
Sunday 11:00 a.m. - 7:00 p.m.
Holiday hours: Nov 28 – Jan 9
Monday - Saturday 10:00 a.m. - 8:00 p.m.
Sunday 11:00 a.m. - 7:00 p.m.
If you can't visit us in person, check out our online gallery! You are also welcome to call us anytime so we can help you find what you are looking for or email us at  info
froghollow.org